View some preview clips of Sting's new release! Special DVD/CD Package February 13 entitled 'The Journey And The Labyrinth: The Music of John Dowland'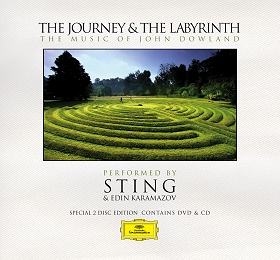 On the heels of his acclaimed recording, Songs From The Labyrinth, Sting furthers his fascination with Elizabethan composer John Dowland (1563-1626) on the forthcoming, The Journey And The Labyrinth: The Music Of John Dowland. This new DVD/CD package includes an extended version of Sting's first-ever PBS special from Thirteen/WNET New York's Great Performances, (airing February 26th), as well as a live bonus audio CD. The Journey And The Labyrinth: The Music Of John Dowland will be released by Deutsche Grammophon as follows:
February 12, Japan, Switzerland, Hungary, France, Belgium, Austria
February 16, Germany
February 19, UK, Sweden
February 20, USA
February 26, Spain
Sting recently released the striking CD, Songs From The Labyrinth, which introduced audiences to his passion for Dowland. With an astounding thirteen weeks and counting as Billboard's #1 Traditional Classical album, the record, called "vivid and romantic" by the Wall Street Journal, has resonated with Sting and Dowland aficionados alike. The album also captured the top spot on the classical charts not only in the U.S. but also in England, Canada, France and Germany.
The Journey And The Labyrinth: The Music Of John Dowland, directed and produced by the Emmy-award winning team, Jim Gable and Ann Kim of Graying & Balding, Inc., delves deeper into Sting's relationship with the sixteenth century figure, who has captivated generations with his songs composed primarily for lute, which Sting tackles along with esteemed lutenist Edin Karamazov. Filmed appropriately at Lake House, Sting's 16-century manor house in Wiltshire, and in the ancient gardens of Il Palagio, his home in Italy, the DVD also features the performers before a live audience at St. Luke's Church in London.
Interspersed between performances of such timeless Dowland songs such as "Can She Excuse My Wrongs," "Come Again," and "Flow My Tears," are discussions with musicologists David Pinto and Anthony Rooley of the composer's place in music history and his relevance today, plus recitations by Sting from Dowland's personal correspondence.
In a rare live appearance performing Dowland's music, Sting and Karamazov's concert at St. Luke's Church in London was also captured as a live audio recording and serves as the bonus CD included in the package. Featuring selections from Labyrinth, the CD also contains the consummate hit "Message In A Bottle," arranged for lute, as well as a rendition of the Robert Johnson blues classic, "Hell Hound."
Sting and Karamazov, joined by the formidable choir, The Concord Ensemble, will be performing music off Songs From The Labyrinth at The Walt Disney Concert Hall in Los Angeles on January 11th, marking only their second live concert in the United States, which sold out in minutes.
Available for Pre-Order:

AND