Sting talks to MOJO - Following the Police reunion tour, Sting was asked to cut a Christmas album. Instead of conjuring a winter wonderland of gaily-wrapped presents, he's delivered a melancholy collection of German lieder and songs about death...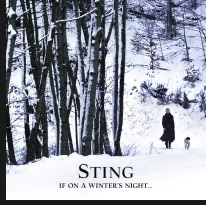 Lonely this Christmas - Following the Police reunion tour, Sting was asked to cut a Christmas album. Instead of conjuring a winter wonderland of gaily-wrapped presents, he's delivered a melancholy collection of German lieder and songs about death. "I do what I want and I don't give a fuck," he tells James McNair.
Having strolled past the grand 19th century gentlemen's clubs of Pall Mall, reaching today's interview venue involves passing two sentries of the Grenadier Guards. This is because the location overlooks St James's Palace, London, a building commissioned by Henry VIII that served as the seat of monarchs for three centuries. These days, Princess Anne resides at St James's, but MOJO's business this morning is at the five-storey, 19th century pile of her neighbour, Sting. Once inside, one of the singer's aides ushers us upstairs into a light, spacious lounge. There's a Scrabble board, some Granta-published literature, and a large oil painting that depicts Chairman Mao swimming in the Yangtze. "This is Trudie's office," says Sting on entering, referring to his wife Trudie Styler. "I'm rarely invited up here."
The singer looks fit and alert despite having just returned from Canada. "It all started with my mother. . ." he jokes, briefly reclining on a plush leather sofa as though MOJO were about to subject him to some deep Freudian analysis.
At an age when most men favour the forgiving loose-fit, Sting, 58, is wearing a figure-hugging grey T-shirt. Later, apropos nothing, he breaks off from the interview to yoga-squat into an impressively low W shape. Sliding back up, he makes a relaxed, sighing sound.
We've ostensibly met to discuss his new album 'If On A Winter's Night...' Though not quite so off piste as Songs From The Labyrinth, his 2006 album of lute music and songs by the 17th century English composer John Dowland, it is a work that continues to distance Sting from his pop roots. Released on highbrow classical label Deutsche Grammophon, it includes works by Henry Purcell and J .S. Bach alongside traditional folk fare, ghost songs, and two new Sting compositions, Lullaby For An Anxious Child and The Hounds Of Winter. The singer says his new record's title borrows from Italo Calvino's complex if playful 1979 novel If On A Winter's Night A Traveller.
"I think Calvino's book is a hall of mirrors that questions the whole idea of authenticity," he says, sipping an espresso. "You think the story is about one thing and then it shape-shifts. One of the dangers of being me is, 'What does it mean to be authentic?' I'm a pop star, so why am I suddenly singing classical or folk? I have every right to, but there's no authenticity."
It is perhaps the new record's cover of Der Leiermann (The Hurdy Gurdy Man), the crucial denouement of Franz Schubert's Winterreise, the esteemed 1827 song cycle which sets 24 poems by Wilhelm Muller for male voice and piano, that finds Sting furthest from 'De Do Do Do, De Da Da Da'. "I'm not trying to be Placido Domingo - I can only sound like me," he insists, but conceptually and in terms of its execution, 'If On A Winter's Night...' is not without aspirations. After succumbing to something as inevitable and sure-fire lucrative as the Police reunion tour that wrapped in New York City in August 2008, Sting has clearly decided to re-calibrate himself for more serious pursuits.
Work on 'If On A Winter's Night...' began in February 2009 at another of the singer's abodes in Tuscany He tells MOJO this retreat gets surprisingly cold in winter, and that he and his collaborators "huddled around the fire to carve out the songs". Long term Sting guitarist Dominic Miller was there; Northumbrian pipes player Kathryn Tickell, Celtic harpist Mary MacMaster, melodeon player Julian Sutton, cellist Vincent Segal and Lebanese trumpeter Ibrahim Maalouf completed the cherry-picked group.
The album they created with producer, orchestral arranger and conductor Bob Sadin has a calmness and a quiet sense of foreboding, its cushioned, sometimes enchanting sound evoking a deep, undisturbed fall of snow.
"When the record company said I should do a Christmas record I nearly threw up on the carpet," says the singer. "I don't like Christmas very much, but I said I'd do something about winter. The dark hours have a useful place in our psychology that allows us to reflect and reassess, so it's no surprise that we end up thinking about ghosts of Christmas past.
"Basically, I wanted to find songs that channelled some kind of older wisdom, rather than stuff like Frosty The fucking Snowman. I'm an agnostic and I was interested in the pre-Christian idea that the winter is more about regeneration than salvation; I stayed away from that triumphal, 'God is in his heaven, isn't everything wonderful?' kind of thing."
In which case, asks MOJO, why does opening song 'Gabriel's Message' concern The Nativity. "Because I didn't want to throw out the baby with the bathwater," says Sting. "I enjoy reading [Richard] Dawkins and [Christopher] Hitchens and I think they're funny, but attacking the fundamentalist idea of what God is like is as easy as hitting a bull elephant with a shotgun. What I believe in is the human imagination. Religion is a product of that just like literature or music, so to deny religion is to deny part of what it means to be human. I don't believe for a second that Mary had a baby and stayed a virgin. But it's a magical story and it has power."
Gordon Matthew Thomas Sumner was born in Wallsend, England in 1951 in a terraced house by Swan Hunter's shipyard. As a child, he would sometimes accompany his milkman father Ernest on his float as he made his rounds. "I remember the soft snowfall of so many dark winter mornings as we drove silently through the empty streets..." writes the singer in the sleevenotes for his new album. Sting also says that recording traditional Northumbrian folk song 'The Snow It Melts The Soonest' brought on "a rare twinge of homesickness".
Elsewhere on 'If On A Winter's Night...', wistfulness and nostalgia give way to a graver undertow, the snarling dogs of 'Winterreise', 'The Hounds Of Winter', and the troubled infant of 'Lullaby For An Anxious Child' all intriguing players in Sting's decidely un-Christmassy Christmas album.
If you read the singer's 2003 autobiography Broken Music, you'll find little about The Police or his infamous rucks with Stewart Copeland and Andy Summers. Instead, the book finds Sting reappraising specific events that "resonated powerfully" with him and few if any events in his life have resonated so powerfully as losing both his parents to cancer in 1987. That same year he dedicated his second solo album, 'Nothing Like The Sun', to mum Audrey, and the dark 1991 follow-up 'The Soul Cages' was largely an attempt to deal (or begin dealing) with unfinished business between Sting and his dad. "I was a thorn in his side," writes the singer in Broken Music.
That Sting didn't attend either of his parents' funerals still makes startling reading, but he had his reasons. He feared his attendance would turn the events into a photo opportunity and, moreover, the very thought of going to the ceremonies had a constricting effect on his lungs that literally left him gasping for air. When Sting "carried his grief with him", flying to Brazil to play in front of 200,000 people at the Maracana stadium in Rio De Janeiro on November 20, 1987, he was "outwardly impregnable but inwardly broken". Understandably, Christmas 1987 was utterly miserable.
Sting says he thought of his father often during the making of 'If On A Winter's Night...' , of him having to work out in the cold like Schubert's hurdy-gurdy man. In the electronic press kit that accompanies the new album, the singer also remarks that he has finally figured out what his own job is. MOJO asks for clarification.
"My job is to get better as a singer, musician, arranger and band leader," says Sting. "My dad wouldn't have considered that a job, but there you go. I'm here to learn. I think it benefited me to hear Beethoven and Kathy Kirby, and whether you are playing Rachmaninov or a simple folk song the building blocks are the same.
"I don't see classical music as some impregnable monolith," he goes on, warming to his theme. "There are ways into that world that don't involve the conservatory, just as there are ways into jazz that don't involve heroin. I've always liked to push myself a bit. I get more out of that than I would from ploughing the same old trough."
Even in 2007, a bumper year for bands reforming, the return of Sumner, Summers and Copeland was a shock, not least because Sting had long been adamant it wouldn't happen. But the band hadn't had a disagreement in decades, and when MOJO interviewed the trio in Vancouver that May after the opening show of their reunion tour, all seemed well... ish. Copeland's drum skins, which notoriously used to say, "Fuck Off You Cunt!", now read "Kiss me you fool!". What could go wrong?
"One little voice said, 'Reform The Police', and another said, 'Are you out of your fucking mind?'," says Sting today. "It went back and forth like that for a while, then I finally went to the boys and said, What do you think? At first they didn't believe me, but I eventually convinced them that I meant it. We put the feelers out and the commercial viability was massive. The time was right."
The tour turned out to be an epic one of 152 dates across North and South America, Asia, Australasia and Europe. Tickets for the UK shows sold out in 30 minutes, the reviews were largely good, and the tour eventually grossed £210 million. Yet as a MOJO colleague put it, Sting sometimes had "the bearing of a man who had been browbeaten into a strip club by overbearing 'friends' and now felt slightly dirty about it." Sting laughs at this. "You wouldn't have to browbeat me into a strip club - I'd be perfectly happy there, [but] it was more difficult than I thought it would be. Psychologically speaking, that is. It was like going back to a dysfunctional marriage where all the old problems were still there. The truth is I got ill I got physically ill I got through it, but it wasn't easy (hollow laugh)."
So where does this leave Sting and rock music? Calling the shots on his solo albums; collaborating with everyone from Branford Marsalis to Yo Yo Ma; singing songs in Spanish and Portuguese - it isn't hard to see why he'd prefer that kind of stuff to gruelling, dysfunctional tours playing overly familiar pop tunes. "Rock'n'roll is pretty conservative," he says. "These days a lot of it is very reactionary and dogmatic. People are in these little ghettos, stuck in a rut and I find that very upsetting. I can't listen to Radio 1 - I don't know anybody who can."
Sting makes a good case for his eclecticism. He did, after all, play jazz with The Phoenix Jazzmen before he was in a new wave band, and why shouldn't a man pursue his interests if he has the talent and opportunity to do so? 'Songs From The Labyrinth' involved the singer painstakingly learning archlute in order to accompany fellow lutenist Edin Karamazov through his own renderings of Dowland's melancholy Elizabethan songs. You had to admire the dedication, but wasn't there something a little, well, daft about it?
"Something absurd?" says Sting. "Not really. I look upon Dowland as the father of the whole thing. He was a lute player who travelled the whole of Europe playing really popular songs. Every home had a lute and every home had a Dowland songbook. He was the guy whose legacy we follow. Whether you are James Taylor or the Sex Pistols it's what we do. The lute was the instrument of the people? Absolutely. It was the piano that killed it. That and tuning the fucker. But I didn't think the album was ridiculous. It felt very natural to me. Obviously I knew that I was taking a risk, that I was walking into a firing squad, but frankly I do what I want and I don't give a fuck."
Not giving a fuck has served Sting well. Working-class boy made very good, the circles he moves in are ever-widening. A princess for a neighbour, a CBE, a game of chess with grandmaster Garry Kasparov. "Back in 2000 I played four matches with him in 90 minutes," he says. "I didn't do so badly, but in the last game he swept through me like a Panzer division. He notated every move, ringed my egregious mistakes and said, 'Better go study.'"
More recently, Sting met Barack Obama and family after he performed 'Brand New Day' at one of the new US president's inaugural balls. "What impressed me most about Obama was that he was very with you, very focused on you when he was talking to you," says Sting. "He said, 'You're on my iPod', and I said, I bet you say that to everybody. He said, 'No, really, you are.' Compared with that last joker, he definitely has presence."
If we've become used to the ubiquity of Sting at celebrity balls and fundraisers, one appearance that did surprise was a 2008 cameo in comedy series Little Britain USA, which involved being forcibly kissed by David Walliams' deliberately unconvincing transvestite, Emily Howerd.
"That was actually the second time I'd kissed a man," says Sting. "The first was in a film called The Grotesque [1995], where I played this very odd bisexual character. The actor I was playing alongside [Steven Mackintosh] hadn't kissed a man either, so I said, Let's make this really good, then it will only be one take. But I'd kissed uglier women, frankly. It wasn't so bad. David [Walliams] insisted on another take, then another. Very funny, but not very comfortable."
As our interview winds down, and in light of that yoga squat earlier on, MOJO asks Sting about keeping himself fit. Aged 58, how good is he at holding back the years? "No," says Sting, ushering MOJO out. "That was Mick Hucknall."
© Mojo by James McNair