Live at the Autostadt in Wolfsburg: Sting Solo with Orchestra - A Bow to the Old Masters on May 26/27 2010...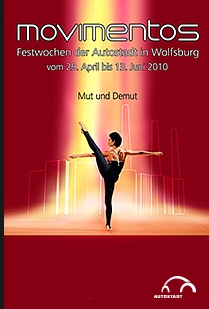 As part of the Movimentos Festwochen of Autostadt in Wolfsburg 2010, exceptional British musician Sting will perform for two nights. Accompanied by the Bundesjugendorchester (National Youth Orchestra of Germany), two concerts will be staged at the listed KraftWerk of the Volkswagen Group. Advance ticket sale starts 22 December 2009.
"Having been able to attract Sting to the Movimentos Festwochen fills me with great anticipation", says Dr. Maria Schneider, Artistic Director of Movimentos Festwochen and Autostadt's Creative Director. "Not only is he one of the best musicians of our time, but a great supporter of human rights and environmental protection for which he both devotes a lot of time and energy. Nowadays, that kind of commitment is no longer a matter of course - there aren't many role models like him around. Our festival topic for next year is
courage and humility
and I cannot think of an artist, who embodies this attitude more authentically than him."
Composer, singer, actor, author, activist - Sting has won universal acclaim in all these roles, but he defies easy labeling. He's best described as an adventurer, a risk-taker. As he himself said, "I love to put myself in new situations. I'm not afraid to be a beginner." Husband and father of six, masterful guitarist and bassist, and also a devoted Yoga practitioner, he's made a career, in fact, of new beginnings.
A milkman's son from Newcastle, England, Sting was a teacher, soccer coach and ditchdigger before turning to music. Inspired equally by jazz and the Beatles (eclectic tastes that would prove prophetic), he met Stewart Copeland and they, along with guitarist Andy Summers, formed the Police in 1977. The band quickly became a success both in the UK and U.S. scoring several No. 1 hits including "Roxanne," "Every Breath You Take," "King of Pain," and "Every Little Thing She Does Is Magic." They earned five Grammy Awards and two Brits, and in 2003 the band was inducted into The Rock and Roll Hall of Fame. The trio's live work forecast the astonishing inventiveness and range of influences that Sting would realize fully in his solo career.
With the release of Dream of the Blue Turtles in 1985, followed by
Bring On The Night
,
Nothing Like The Sun
,
The Soul Cages
,
Ten Summoner's Tales
,
Mercury Falling
,
Brand New Day
,
All This Time and Sacred Love
, Sting has evolved into one of the world's most distinctive and highly respected performers, collecting as a solo performer an additional 11 Grammys, two Brits, a Golden Globe, an Emmy, three Oscar nominations, Billboard Magazine's Century Award, and MusiCares 2004 Person of the Year. He has appeared in 15 films, Executive Produced the critically acclaimed, "A Guide To Recognizing Your Saints," and in 1989 starred in a Broadway play the "Threepenny Opera."
Also an accomplished author, Sting published a memoir entitled
Broken Music
in 2003, which spent 13 weeks on the New York Times Best Sellers list. Most recently, he released
Lyrics
- a comprehensive collection of lyrics and personal commentary, also featuring photographs from throughout his career.
Sting's support for human rights organizations such as Amnesty International and Live Aid mirrors his art in its universal outreach. Along with wife Trudie Styler, Sting co-founded the Rainforest Foundation in 1989 to protect both the world's rain forests and the indigenous peoples who live there. Together, they have raised more than million dollars with their 15 benefit concerts to raise funds and awareness of our planet's endangered resources. Since its inception, the Rainforest Foundation has expanded to a network of interconnected organizations working in 23 countries around the globe.
Sting has remained at the forefront of the public consciousness for four decades and has written some of the most enduring songs of our time, a talent perfectly showcased by his record
Sacred Love
, released to both critical and commercial success. Recently, Sting ventured into "new" musical territory with an album featuring the music of acclaimed Elizabethan songwriter, John Dowland (1563-1626) entitled
Songs From the Labyrinth
- which debuted at the top of the classical charts in the US, UK, France, Canada & Germany.
In 2007, The Police reformed and embarked on a world tour. This much heralded tour played to over 3.7 million people on five continents and ranked as the third highest grossing tour of all time. The Police world tour also garnered numerous accolades including 'Major Tour of the Year' (
Pollstar
), 'Top Selling' and 'Top Tour of the Year' (
Billboard
) as well as the People's Choice award for 'Favorite Reunion Tour of 2007.'
Sting's latest album,
If On a Winter's Night...
released on Deutsche Grammophon, debuted at No. 6 on Billboard's Top 200 and No. 1 on both the Classical and Seasonal charts. The album presents an arc of songs that conjure the season of spirits, featuring a collection of carols, lullabies and hymns spanning the centuries, resulting in a haunting, spiritual and reflective musical journey. Deutsche Grammophon also recently released a special, live concert performance on DVD entitled,
"Sting: A Winter's Night...Live from Durham Cathedral."
Filmed at the magnificent Durham Cathedral near Sting's hometown of Newcastle-upon-Tyne in Northern England, he was joined on stage by an ensemble of thirty-five musicians, including string and brass sections, conducted by producer Robert Sadin.
The ensemble performing with the National Youth Orchestra of Germany at the Autostadt in Wolfsburg will be a great opportunity for the young artists and Sting himself to showcase the inspirational effects when classical and contemporary works unite. For an average of two years, one hundred young artists aged 14 to 19 years get the chance to be a part of this extraordinary experience working with known conductors, instructors and playing live both at home and abroad. The joint performance with the Bundesjugendorchester (National Youth Orchestra of Germany) at the Movimentos Festwochen of Autostadt in Wolfsburg should be an outstanding evening for all fans.
Details in short:
Solo-artist: Sting
Accompanying Orchestra: National Youth Orchestra of Germany
Date: 26 & 27 May 2010
Location: KraftWerk
Occasion: Movimentos Festwochen of Autostadt in Wolfsburg 2010
Doors open: 7pm
Time: 8pm
Admission: 50 EUR (plus 5 Euro booking fee)
Personalized tickets are available only via www.tickets.de. Advance booking starts 22 December 2009.
Further information about the National Youth Orchestra of Germany at www.bundesjugendorchester.de (English version available).