Sting says church feels like home - On a cold December night in New York City, an Arctic wind scratches at the exposed skin of any brave souls out on the streets...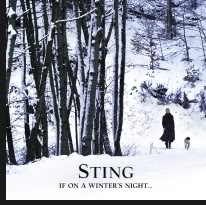 Sting says church feels like home...
On a cold December night in New York City, an Arctic wind scratches at the exposed skin of any brave souls out on the streets.
At Morningside Heights in Manhattan, a stream of pedestrians flows out of the chill and into the embrace of the magnificent Cathedral Church of Saint John the Divine.
A couple of thousand voices ricochet around the cathedral's vast interior, as ushers guide people to their seats.
"I hope it's snowing outside," the audience is told by the church's artist-in-residence, Philippe Petit, who gained notoriety by highwire walking between the Twin Towers of the World Trade Centre in 1974.
"This is perfect. You are protected from the cold and fury of the metropolis by thousands of tonnes of stone."
Yet the crowd is not here for salvation, but rather to rejoice in what the season can inspire.
They are here for a concert of winter songs, performed by a musician who has been in the public eye - and ear - for more than 30 years, first as a member of the pop trio The Police, then as a solo artist: Sting.
The cathedral seems a curious venue for a 1980s rock god and a self-declared agnostic.
"Playing in cathedrals is a wonderful thing," Sting said.
"Cathedrals were not just places for devotional practice; they were the centre of the community, for music, art, theatre, architecture.
"It's that instinct to go home, to somewhere you feel safe: to the community, to the family home or the church. It's my church as much as anybody else's. Even though I'm agnostic, I feel at home there."
Sting's performance, featuring songs from his latest album If on a Winter's Night played by 30 musicians, likewise sounds at home in the cathedral.
The songs traverse a wide range of musical styles and cover a long time line.
While a few tracks on have If on a Winter's Night were written by Sting, he has also mined music history for material, recording carols and hymns, lullabies and folk songs.
Each of the songs on the album has something to do with the season that does not so much send a chill down Sting's spine as fire his imagination.
"For me, it's a very creative time; it is a time to reflect," Sting explains a couple of days after the concert, as we sit in the library of his Manhattan apartment.
A double bass stands guard in the corner behind Sting, and the floor-to-ceiling shelves are bowing under the weight of books.
A small Christmas tree squats near the bass, overwhelmed by the instrument and the walls of words. It is a warm, comfortable space: an ideal environment to talk about winter.
"The season's very ambivalent," Sting continues. "It's cold; it's miserable for a lot of people; it's uncomfortable; it's long hours of darkness and frost.
"On the other side, there's a magic to it. My premise is that the winter is the season of the imagination. We sit around fires; we tell stories; it's the season of ghosts; the season of spirits, hauntings."
It is also the season big-name musicians release albums to cash in on Christmas, but Sting insists that is not the case with If on a Winter's Night.
"When someone suggested at the record company I do a Christmas album, I sort of gagged," he recalls.
"I don't like Rudolph the Red-Nosed Reindeer; I have no affinity with Frosty the Snowman, or even Santa Claus. It's cloying to me.
"I was sort of storming out of the office and saying, 'How dare you suggest this!' Then I said, 'Hang on, why don't we do an album based on the winter?"
"It's a very rich season in terms of imagery and it's much wider than this narrow idea of Christmas. I'll include some Christmas songs, but it would have to have some balance.
"So I spent about six months researching the music of the winter season, from every source: from classical music, folk music, sacred music, secular music, pre-Christian ideas, historical ideas, and a few of my own.
"I think we ended up with something that balances the dark and the light, I hope anyway."
The new album has allowed Sting to recall the winters of his childhood in Newcastle in the north of England.
He remembers being taught how to make a fire by his mother and accompanying his milkman father on his pre-dawn rounds, initially annoyed at having been roused so early.
"As much as I complained I also loved it. We were often the first people to disturb the snow if it fell," he said.
"I lived in a very grey, industrial town, but the snow would transform it into this magical landscape."
Much has changed since then, Sting says, and not just in his life.
"My memories of winter as a child are that the winters were much harsher," he said.
"We had long, long periods of frost, ice on the roads, you had to be careful where you walked, fog. With global warming, that's kind of fading away.
"I like the seasons. I like the difference between the seasons. I love spring, I love the heat of summer, but we need that contrast.
"As global warming takes place, it's flattening out. I worry for many reasons, for environmental reasons, but psychologically we need this."
There's a strong northern English folk presence on If on a Winter's Night , and there seems to be a few ghosts of Sting's past hovering about as well.
He left Newcastle as a young man, while also leaving behind his name: Gordon Sumner. The life he had in the north of England wasn't the one he imagined for himself.
"I had to leave my home in order to become myself," he reflects.
"Yet I'm 58 now, and I can go home and feel a gratitude for my upbringing, for my roots."
Sting says working on the album with Newcastle folk musicians helped him return to his roots.
"Filtering it through them allowed me to come back home in a creative way. I'm very proud of where I've come from, but I couldn't have stayed there. My life was elsewhere."
I ask him if there is comfort now in being Gordon Matthew Sumner as opposed to being Sting. He chuckles and rubs his dark, full beard.
"Ah, I haven't been Gordon Matthew Sumner for a long time. I've spent most of my life as Sting. It's a sort of silly name, but you sort of get used to it. I'm still the same bloke really."
The Police transported Sting far from Newcastle to another world: that of the rock superstar.
He was the band's singer, bass player and main songwriter. But after having a string of massive hits in the late 1970s and early 1980s, including Message in a Bottle and Every Breath You Take, The Police broke up at the height of their fame.
They reformed for a world tour in 2007 and 2008, partly to ensure "ends were tied together", but Sting says that he cannot foresee that happening again.
What is far from complete for Sting is his exploration of music.
"This is the engine that works me; I just don't want to do the same thing again and again; I'm always curious," he said.
What he won't be doing, he assures, is following Vivaldi through the four seasons and releasing a spring album next, followed by summer and autumn albums.
"That would be far too predictable for me to come out next year with a spring record," he laughs. "No! No! No! I may do it, but in a very veiled way. You wouldn't see that," he said.
© ABC News (Australia) by Scott Bevan