''Endless Sumner - How long is a piece of Sting? About 25 years. A box set plots the creative path of the master of "modern adult popular music..." The WORD review 25 Years...
October 10, 2011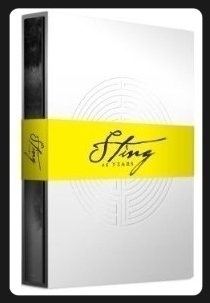 Endless Sumner - How long is a piece of Sting? About 25 years. A box set plots the creative path of the master of "modern adult popular music..."

When The Police agreed to split at the end of their 1984 American tour, all three band members began to create things to fill the space the absence of an enormously successful rock band would leave in their lives. Stewart Copeland began working on a film and solo album called 'The Rhythmatist'. Andy Summers took to writing a long-since-lost screenplay. Sting, being the sort of chap Gordon Sumner was even then, assembled a whole new band made up of exemplary musicians who had played with, among a million others, Miles Davis, Dizzy Gillespie and Weather Report. They decamped to Barbados and made 'Dream Of The Blue Turtles', an almost-jazz record where Sting laid out a template delineated by tasteful instrumentation, musicianly chops and lyrical smartness. This was neither rock nor pop; this music had nothing to do with Elvis, or punk or The Beatles or, indeed, The Police; its eyes were set on the far horizon of a land no one had yet visited, modern adult popular music.

Sting has never been driven by a grinding inner anguish that could only be relieved by bearing his soul. For him, popular music is a big bag of colours and textures that you can do whatever you want with, and those choices have often included ones no one else would dare touch. Educated, talented, relentlessly good looking, he has an open relationship with a brilliant English pop group and is largely uncaring of what people want or expect from him - Sting is the Damon Albarn you're not allowed to like. Barely anyone has been as rewarded or ridiculed as he, yet no one else has so fully explored the concept of grown-up pop, what it means, what it's for and whether we even need it at all.

Contemporary sonic stylings mean that, from this end of time's telescope, some of the material here can be a little hard to deal with. Many of the pieces on the first disc are almost cosmically gentle. If the question was what to do after seven years fronting a noisy rock group then Sting's answer was to become dramatically mellow, but the mood was as deliberately chosen as on any of Brian Eno's ambient LPs. 'Blue Turtles' and 1987's ';Nothing Like The Sun' explored particular moods (the latter doggedly downbeat). 'Fragile' features a nylon-string guitar line so bounteously soft you could rear kittens in its breath-warm slipstream, yet the words tackle the killing of an American engineer by the Contras in Nicaragua. 'They Dance Alone' skewers the murderous regime in Chile and celebrates those left behind, but its power is compromised by the dry wheeze of synthetic panpipes. Sting is certainly a founding father of Cosy FM, yet the echoing minimalism of 1987's 'Be Still My Beating Heart' has real depth, while the same year's 'We'll Be Together', chucked on the album at the last minute by a record company desperate for hits, jumbles up Prince and Scritti Politti's 'Big Book Of Ideas' and comes out with something utterly endearing.

Disc 2 posits Sting as the heavyweight album artist dealing with serious grown-up emotions. 1991's 'All This Time' considers the death of his father while re-stealing every trick Paul Simon ever stole, while The Soul Cages tackles Christian and Jungian philosophy while trying on a new, perhaps grunge-inspired, ordnerry-bloke accent. Musicians of all stripes almost always lose their way in their forties and this disc features its fair share of unnecessarily breezy misfires, but 1993's 'Shape Of My Heart', 1994's 'If I Ever Lose My Faith In You' and 1996's 'I Was Brought To My Senses' - the trad-folk-scented starting point for a whole new Sting - are all sharply realised pop songs that aim for a cerebral connection with a mass audience while retaining something milkmen (like Sting's father) could whistle.

Disc 3's deal is the global-elder material, but 2003's 'Never Coming Home' and 'Desert Rose' (with Algerian Rai singer Cheb Mami) both appear to be the work of someone with a toe still warmed by pop's bubble-heavy bathwater. So while Sting's lute albums and symphonic tours show he's committed to a life some way from the mainstream, he's also been recording with an ex-Pussycat Doll and Glee's Matthew Morrison. Perhaps pop, like so many other things in Sting's life, came too easily to him. Perhaps he never suffered as much as we'd like our heroes to suffer, perhaps he's preternaturally aggravating, but '25' is liberally studded with the work of a master stylist, someone for whom form and function rank jut as highly as spurious notions of authenticity and autobiography. The world would be a much drier old biscuit without him.

(c) Word by Rob Fitzpatrick

---

The November issue of The WORD (Entertainment for lively minds) is in stores this Thursday, 13th October. This month apart from a full page review of Sting's latest release, features include Mick Jagger, Feist, Rob Brydon, Gary Oldman, Gary Numan, & Noel Gallagher and David Hepworth asks has anyone ever asked a girl back to listen to their iTunes?