New Album from Lisaire String Quartet, "Ode to Sting," Now Available...
February 06, 2015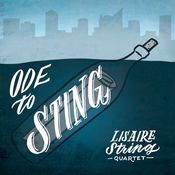 ''Ode to Sting'' is a 12 song string quartet album exploring Sting's vast catalog, spanning from hits from his time with The Police to his enduring solo career. The album is now available as a digital release, sold on iTunes, AmazonMP3 and Google Play. For more information, visit
www.odetosting.com
. Check out a video of the group performing their arrangement of ''Message In A Bottle'' at
https://www.youtube.com/watch?v=F3jzNnZvwnQ
...